August 2021 Jobs Report
September 13, 2021
U.S. employers expanded payrolls by 235,000 jobs in August 2021, according to the Bureau of Labor Statistics (BLS). Employers in professional and business services, transportation and warehousing, private education, manufacturing, and other services saw significant growth in August 2021. On the other hand, employment in retail trade declined over the month.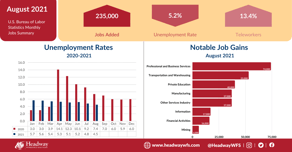 Several Industries Saw Notable Job Gains in August
In addition to professional and business services, the following industries experienced growth last month:
Professional and Business Services: 74,000 jobs added
Transportation and Warehousing: 53,000 jobs added
Private Education: 40,000 jobs added
Manufacturing: 37,000 jobs added
Other Services Industry: 37,000 jobs added
Information: 17,000 jobs added
Financial Activities: 16,000 jobs added
Mining: 6,000 jobs added
Unemployment Declined by 0.2%
The unemployment rate declined by 0.2 percent to 5.2 percent in August, and the number of unemployed persons decreased to 8.4 million. The unemployment rate is down considerably from its high levels in April 2020 but remains well above the pre-coronavirus rate of 3.5 percent and 5.7 million in February 2020. The number of permanent job losers also declined in August by 443,000 to 2.5 million but is still 1.2 million higher than in February 2020. The number of reentrants (persons who previously worked but have been unemployed prior to beginning their job search) to the labor force increased by 200,000 to 2.5 million in August.
Among the major worker groups, the unemployment rates are:
Adult Men: 5.1%
Adult Women: 4.8%
Teenagers: 11.2%
Whites: 4.5%
Blacks: 8.8%
Asians: 4.6%
Hispanics: 6.4%
Similarly to July, the number of long-term unemployed (jobless for 27 weeks+) decreased by 246,000 to 3.2 million. Long-term unemployed accounted for 37.4 percent of the total unemployed in August.
Average Workweek Unchanged & Telework Decreases
13.4 percent of employed persons teleworked in August because of the coronavirus pandemic, up 0.2 percent from July. This increase reflects the rise in Covid-19 cases due to the new variants. The average workweek in August remained unchanged at 34.7 hours.
Increase in Hourly Earnings
In August, the average hourly earnings rose by 17 cents to $30.73; August is the fifth consecutive month showing an increase in hourly earnings. The rising demand for labor associated with the recovery from the pandemic has put upward pressure on wages. Still, since average hourly earnings vary widely across industries, large employment fluctuations complicate the analysis of hourly earnings.