Employer of Record – Everything You Need to Know
October 26, 2023
What is an EOR?
An Employer of Record (EOR) is an organization that handles the hiring and compensating for employees on behalf of another company.
The EOR takes responsibility for the following backend operations:
Payroll processing
Filing payroll taxes
Processing timesheets
Creating, maintaining, and terminating employment contracts
Employee onboarding processes for new hires
Maintaining insurance
Running various background checks
Administering benefits and handling worker's compensation, health insurance, etc.
Essentially, your Employer of Record acts as the "employer" for all or a small subset of your workforce. The EOR would handle all your HR and payroll needs so you can devote more time to business operations.
Employer of Record (EOR) VS Professional Employer Organization (PEO)
An EOR is similar to a PEO or Professional Employer Organization, but their overall functions are very different. A PEO provides co-employment services; both the client company and the PEO share in employee management and assume legal liabilities. On the other hand, an Employer of Record is employing the worker on behalf of the client company; ensuring compliance according to local laws and labor regulations, and handling payroll and other HR/administrative tasks. The day-to-day management of the workers remains the responsibility of the client company.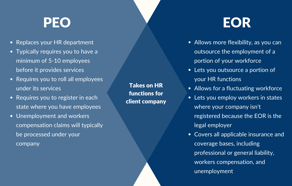 Employer of Record VS Staffing Agency
A staffing agency acts as a middleman between hiring companies and talent. Their responsibility is finding the right candidate to match the job vacancy. Depending on the staffing agency, the services can include anything from advertising the job to filing paperwork and running background checks. A company that is strictly an EOR does not play a role in talent acquisition; instead, they come into play when the right candidate is selected. Some companies provide multiple services, including staffing and EOR.
When to Use an EOR?
You should consider using an EOR when:
Your company is hiring in multiple geographic regions
You want to ensure compliance with the labor laws and regulations in a different state
Your company's goal is to reduce compliance and misclassification risks
You are hiring independent contractors
You don't have the capacity to perform the operations in-house
Your workforce is comprised of a workforce that poses a liability risk
Benefits of Working with an Employer of Record
An EOR provides a wealth of background knowledge and expertise in compliance laws and regulations, allowing them to handle back-office operations and allowing you to focus on what makes your business successful. As companies embrace remote and online work, markets open up all over the United States, providing opportunities for business expansion and the chance to recruit talent from a broader area. These opportunities introduce some legal challenges when hiring out-of-state employees. This is where the Employer of Record services come in.
By partnering with an EOR, you will:
Save substantial resources for your core business

Relying on an EOR will help you save the time it takes to go through the hiring process. EORs have their own team of trained experts that handle the hiring and onboarding process so you can focus on the core aspects of your business. An Employer of Record can save costs that would usually be allocated to back-office operations.

Reduce compliance risks

The EOR ensures compliance with the laws of the state that you're planning to hire in. By outsourcing the hiring of new employees, you don't have to worry about local regulatory laws or work permits, as this becomes a responsibility of the Employer of Record.

Ensure a good onboarding process for each new employee

The employee will be taken through the onboarding process by the Employer of Record and prepared to start the job. The EOR also assumes the responsibility of payroll and managing employment contracts. They take care of the administrative tasks around hiring, from the very first to the last day of an employee's contract.
Considering Working with an EOR?
Headway Workforce Solutions is a leading B2B (Business to Business) provider of workforce solutions with an array of contract-based integrated services and national staffing solutions. Our managed services approach provides substantial operating performance improvements and cost savings over traditional staffing for industries with complex, recurring, multi-location human capital needs.
Headway Workforce Solutions can relieve the burden of your back office. With EOR, Headway takes on the entire employer function of your workers, letting you get back to what you do best. Wrestling with the complexities of back-office employee administration isn't the path to growth. From payroll and taxes to compliance and risk mitigation—and everything in between—Headway provides customized, flexible, and hands-on Employer of Record services.
Benefits reach every corner of your business:
Eliminate employer liability and worker's compensation risk
Nationwide employer compliance
Analytical insight into labor spend
Offload HR administration
Relieve your payroll burden
Think partnering with an EOR could be the right choice for your company? Contact us.